We've tested the new 'Email on 3' application, which allows customers to check a number of work and personal email accounts including Gmail, Hotmail and Yahoo for $5/month on their mobile. See why this could be a viable alternative...
Email on 3 is a great addition to those already using the 3 network, but it's also something we'd like to see happen more often with other phone networks. Our first impressions are that if you're looking for a basic alternative to Blackberry push email, this might be it.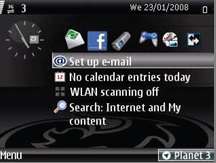 Setting up is simple to do...

Simple idea
All webmail and work email access is unlimited, including email attachments. The new service automatically pushes (forwards) emails from all your different web email accounts, (including work email) to your phone.
Costs
Price-wise, it's a knockout: Pre-paid users can purchase a $5 email pack on top of their monthly caps to make the most out of the unlimited email service, which squares it up with Blackberry and offers considerably good value.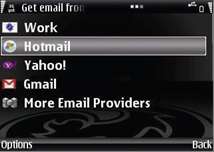 You can have up to 6 email accounts for $5 a month

Handset support
Email on 3 works with over 20 different handsets, including Nokia, Sony Ericsson, HTC and Palm. 3 reps have confirmed to us that they are in the process of adding 20 more handsets this month and will make the service attractive to those on older and less glitzy phones.
Users are allowed up to 6 different email accounts.
Availability
Of course, none of these services are useful without being as easily accessible as buying a pre-paid voucher. Customers can recharge their email the same way as a recharge, at any 3 store of 14000 participating outlets across Australia, in addition to online, phone and auto- recharge options.
We tested the email application on a Nokia E63 and found the service was easy to use and very quick to setup (in under five minutes we we're up and running, bar a few early connection errors ). While 3 isn't the most reliable network depending on where you're located (we've experienced reception issues), the 3G network is attractive for webmail and work email on your phone.
Time to ditch the Blackberry?
We think the service could potentially deliver some great benefits for small businesses, if you're intimidated by Blackberry plans and setup. 3 on Email is relatively cheap, it works, and it's a good alternative for syncing an outlook express account across for multiple staff users.
Get started
Text the word email to 336699 to download the email application to your phone or visit Planet 3 (X Series packs), 3 online or any outlet that sells 3 recharge vouchers. For those still unsure, a one month trial might be a good idea.