The Galaxy Nexus is the most iPhone-like Android phone to date and Ice Cream Sandwich is the most iOS-like iteration of Android. Read on for our hands-on verdict.
Want the first look at Samsung's made-for-Google Galaxy Nexus with Ice Cream Sandwich? Here are our first impressions...
Galaxy Nexus screen resolution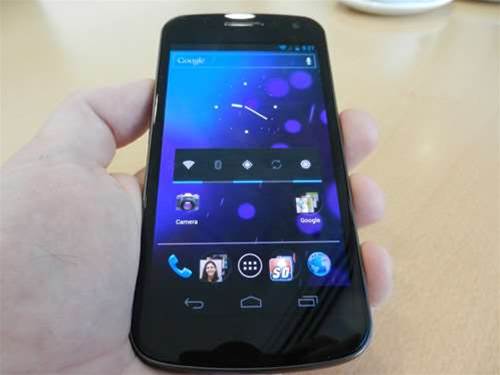 Even at arm's length the Galaxy Nexus's Retina Display-baiting 320dpi resolution screen cuts a sharp picture. It's better than the screen on Apple's iPhone 4 and iPhone 4S (read our Apple iPhone 4S review). Although (marginally) less hi-res (the iPhones cram 326 pixels into every inch), Apple's stubborn refusal to move away from a 3.5in screen means the Nexus's display trumps the iPhone's.
Galaxy Nexus size
Samsung has resisted the urge to supersize its new made-for-Google handset (we're looking at you, HTC Titan), so the Galaxy Nexus measures up at a handsome – but not overbearing – 4.65in diagonal. Fans of the Nexus S will be pleased to hear that the Galaxy Nexus has carried over the CRT TV power-off animation when the screen powers down. And it's still lovely.
Galaxy Nexus Face Unlock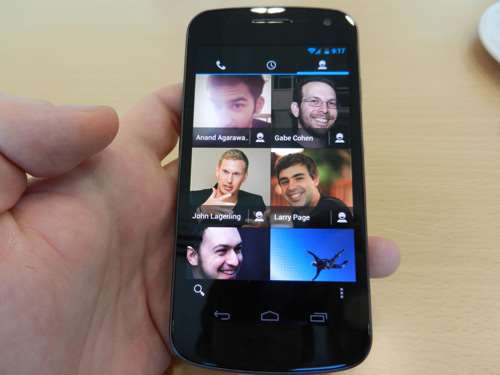 There's a side-mounted button to get the Galaxy Nexus to wake up, but you'll really want to take advantage of Ice Cream Sandwich's new Face Unlock feature which recognises your mug and almost instantly springs into action in approval.
Ice Cream Sandwich (Android 4.0) and the Galaxy Nexus
As you're probably aware by now Android 4.0 (or Ice Cream Sandwich, to use Google's sweet-toothed sobriquet) lets you customise your multiple home screens and stack icons into groups (not unlike folders in iOS in look or feel).
There's also People; an intelligent Rolodex of your friends that latches on to every conceivable avenue of communication (Facebook, Twitter, Google Chat, Google Plus, etc). It all works smartly and gorgeously, and is prettier even than Windows Phone Mango's similar service.
Ice Cream Sandwich – buttons begone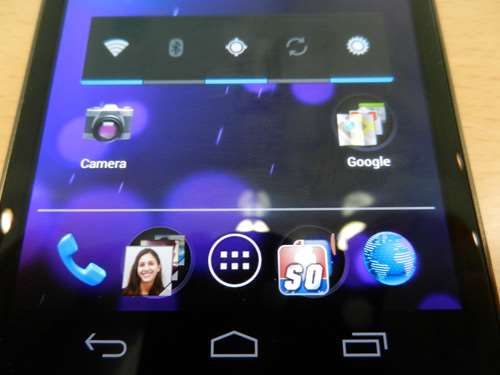 The physical (or touch) buttons that have come to define Android handsets are gone. The new virtual buttonry is reduced to mere dots when running full-screen apps and is as beautifully unintrusive as we imagine its creators intended. (Fear not, Gingerbread upgraders: Android 4.0 will still support physical/touch buttons, too.)
Galaxy Nexus – Anroid Beam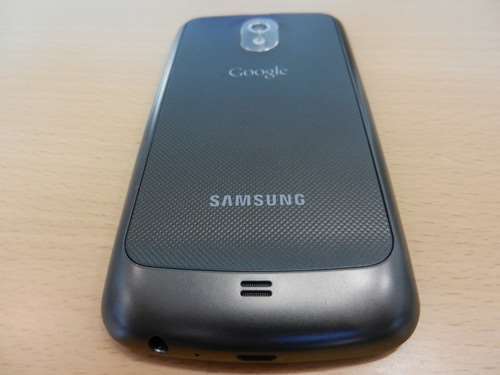 What'll change the world more, Apple's Siri voice assistant or Google's Android Beam? Certainly our first impressions suggest that Siri needs quite a bit of work to make it beyond its mildly-diverting-and-occassionally-useful-gimmick beta. But Android Beam is also hobbled: Google's NFC-enabled sharing platform won't mature until all your mates have NFC phones.
At least Beam is open-source, but we haven't seen the explosion of NFC-based fun we were promised when the Nexus S came along, and there's little reason to believe we'll all be tapping each other's phones to swap contacts and pictures before the next Nexus iteration arrives. Of course, once tap-to-pay makes NFC indispensible, we'll eat those words, but whether that will even become mainstream by the end of 2013 (the expected launch window of Google's sixth phone) remains doubtful.
Galaxy Nexus converts speech to text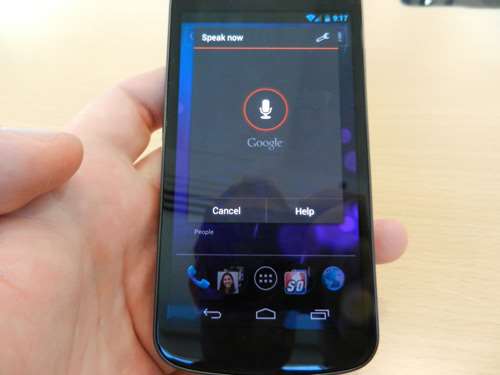 Google's real answer to Siri is realtime speech-to-text, which lets you 'write' messages with your vocal cords in an evolution of Google's Voice Search functionality. Despite this not being a final build it appears to work well (but then so did Siri in a quiet room). And speech-to-text also relies on servers to work. If you do resort to the keyboard there's now super subtle haptic feedback with a 2ms vibration that is just noticeable but hugely satisfying.
Galaxy Nexus camera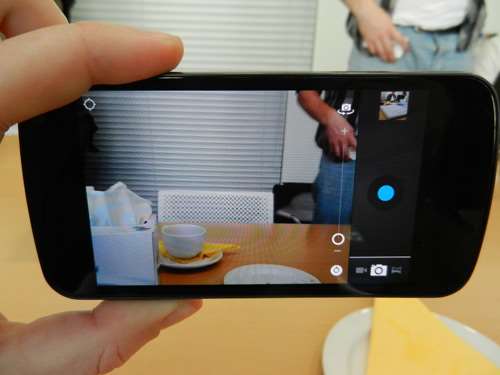 If the iPhone 4S had arrived with a 5MP camera, there'd have been a riot. So Google's defensive stance on the Galaxy Nexus's 5MP sensor is not without cause. It claims faster speeds than the iPhone 4S's cam, a panoramic mode, face detection and one-touch sharing (that's open to developers). Snaps are clear and crisp with tonnes of after-edit options like red eye removal, cropping and filters, and you can tag people and places easily. There's also 1080p video and you can grab a full res photo while filming just by tapping the screen. Even so, 8MP would've been nice.
Galaxy Nexus and Ice Cream Sandwich verdict
Is it our imagination? No – the Galaxy Nexus is the most iPhone-like Android phone to date and Ice Cream Sandwich is the most iOS-like iteration of Android.The lack of buttons, the endless list of pilfered UI elements, visual voicemail… the whole shebang.
Of course, it's a circular argument (iOS has robbed more than its fair share of Android innovations), but the message here is that Google's Nexus does not want to be number two. And if developers are smart about applying Android 4.0's hoard of open-source treats to their apps, there's no reason it should be. As things stand, the iPhone only retains the smartphone crown with its industry-leading build and unrivalled App Store. The rest is yet to be written, but we'll be back with a full review soon.