Breaking News: Australian Classification Board website attacked by hackers
In the mad fight to finally get a true R18+ rating for Australian gamers, there have been a few blows passed from both teams - the latest one was a flat-out refusal of the rating back in February 2009.
On top of that is the contention over ACMA's blacklist, of which the Classification Board was recently placed in charge of.
While we're not sure exactly when it happened, hackers have posted this delightful message on the welcome page of the official Classification Website:
This site contains information about the boards that have the right to CONTROL YOUR FREEDOMZ. The Classification Board has the right to not just classify content (the name is an ELABORATE TRICK), but also the right to DECIDE WHAT IS AND ISNT APPROPRIATE and BAN CONTENT FROM THE PUBLIC. We are part of an ELABORATE DECEPTION from CHINA to CONTROL AND SHEEPIFY the NATION, to PROTECT THE CHILDREN. All opposers must HATE CHILDREN, and therefore must be KILLED WITH A LARGE MELONS during the PROSECUTION PARTIES IN SEPTEMBER. Come join our ALIEN SPACE PARTY.
We've also taken a screengrab for you, in case they wake up too soon and fix it: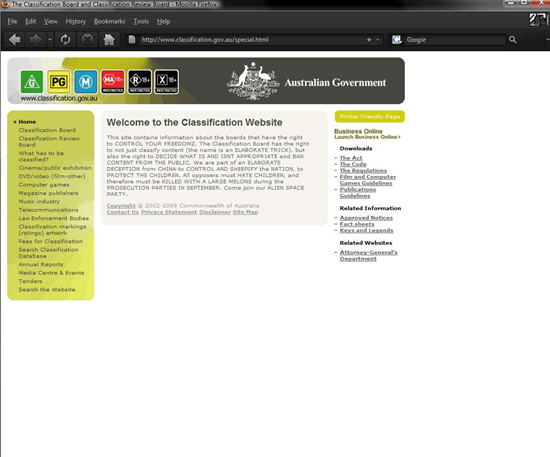 Head over to the site to see if it's still hacked here (as of 10:00pm EST it was) - who knows when it will be fixed?
Atomic's Opinion: This type of behaviour isn't going to score the internet community any more respect, nor gain them any momentum from the government. These attacks certainly bring attention to the issue (all press is good press), but they don't convince those in power to change the situation at all - a real argument is needed to spark a change. What can do this? Well, we're not quite sure, but it'll be interesting to find out.