Microsoft CEO Steve Ballmer has addressed the future challenges facing Microsoft and surprisingly, views Linux as a greater threat than Apple.

According to an Apple Blog report, the speech by Ballmer to investors gave attendees an overview of company health and where CEO Steve Ballmer felt the greatest threats and opportunities lay for Windows and IE.
Ballmer wasn't coy about his predictions. He cited Apple for their recent growth, but didn't dwell on their recent market popularity, preferring to discuss the rise of Linux instead.
In a slide that was used on screen to show market share and market growth, Linux actually appeared larger than Apple in the slide below: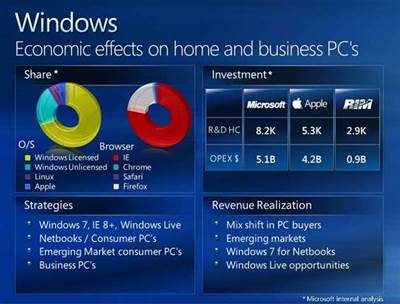 click on image to enlarge
Ballmer speculated that the rise of cheap, low powered netbooks and the surging interest in open source powered notebooks was becoming a potential threat to Microsoft.
The Microsoft CEO also predicted a merging of phone and desktop-based operating systems in the future, no doubt spurred on by Google Android and the iPhone. He sees Google's Android moving into the desktop space, eventually challenging Window's OS strength.
"I assume we're going to see Android-based, Linux-based laptops, in addition to phones. We'll see Google more as a competitor in the desktop operating system business than we ever have before. The seams between what's a phone operating system and a PC operating system will change, and so we have ramped the investment in the client operating system," Ballmer told the audience.
Ballmer continued to downplay Apple's growth. Even with Apple's stunning sales success, he still believed it was not "...necessarily being as dramatic as people would think."
According to the slide though, Microsoft's greatest threat is themselves. Microsoft is more worried about pirated Windows products than all of their competitors combined. So for now, Linux, Google and Apple have time to play catch-up.