Wireless in-car connectivity centres are gaining popularity thanks to 3G and burgeoning 4G services. We take a look at a couple of the bigger examples and investigate how they're changing the way we drive.
In just a few years time, cars may no longer be solely looked upon as a way of transporting us from A-B. If you're to believe the promises made by the conceptual in-car Internet dashboard popping up across the internet, then our cars are likely to become an extension of our homes and offices and each of us may be driving a mobile multimedia centre on wheels.
The latest two in-dash Internet systems getting some attention are from Mercedes and ng Connect. These system promise to be the next big thing in motoring tecnology, so what do they offer?

Mercedes myCommand



The Mercedes-Benz motor company is not just one of the most luxurious car makers in the world - it's also looking to be among the most high-tech.

One of the more interesting parts of the Mercedes myCommand system is how it's controlled with a button next to the gear stick, and not via a touchscreen. This off-board navigation as Mercedes calls it, alternatively provides the driver with a small button intended to keep hands away from the actual console.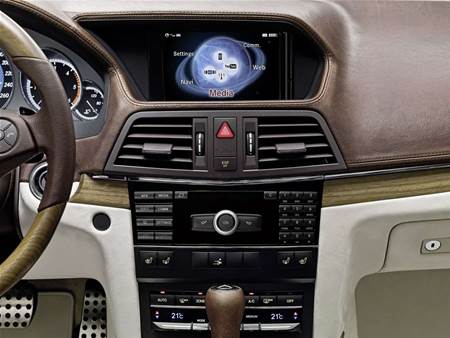 The Mercedes-Benz in-car 'myCommand' wireless network. Photo: eMercedes-Benz
All system decisions are subsequently intended to 'swivel' (like an iPod scroll) a large globe of the world (which acts as a kind of home page) to choose between menu options. When the button is pushed, it acts just like a mouse click.


Notice the scroll button next to the gear stick. This controls the interface. Photo: eMercedes-Benz
Production status:
Concept
What's interesting:
Trip Assist:
Utilises up-to-the minute data thanks to Internet connection. Maps will always be updated and traffic data will be integrated into unit via web. POIs will be less static and route intelligent, thanks to online interface.



Real-time POIs. Photo: eMercedes-Benz

World Radio:
Play music beamed over the web thanks to online feeds automatically programmed into the system. Browse by genre.



Listen to music from around the world. Photo: eMercedes-Benz

Internet telephony:
Kiss expensive mobile bills goodbye - access VOIP services in car.
Auto update:
This in-car wireless centre will automatically update the latest system software each time the car is turned on.
Browser connectivity:
A list of favourite sites can be brought up with a click of the console button. YouTube videos can be played and a media player ensures audio and visual connectivity. However, the concept video and screenshots don't exactly spell out how the system will allow you to enter web addresses or messages. This could be quickly become annoying using a button to scroll through letters of the alphabet. Regular email pops up could prove a driving distraction.
The Globe serves as a home button for online services. Photo: eMercedes-Benz
What cars are going to be using it?
It looks like Mercedes-Benz for now, although we wouldn't be surprised to see the car maker licence the technology to other big German car brands in the future.

ng Connect


Sharing many similarities with the Mercedes in-car system, the ng Connect program takes place in the LTE Connected Car - another in-car concept designed to show off the future wonders of vehicle connectivity, with a just a couple of subtle difference.
For a start, the LTE/ng system is touchscreen based and will operate on the 4G network. It's not clear to us whether the Mercedes system will do the same, although we're assuming so, considering the data required to get the most out of the real-time instructions.
Also, unlike the Mercedes design, there will be multiple screens installed into an LTE car, giving family members the chance to interact by themselves with the system in other seats of the car.
Production status:
Concept
What's interesting:
Gaming: multi-player games: play in car or with others through the internet
Video/audio on demand: Order movies and music straight into your car. Good for long trips and families.
Advanced Navigation: Real-time GPS updates with POIs updated online.
Home control: One of the most fascinating features. This will potentially allow passengers/drivers to monitor and manage lighting, IP and home/office security systems.
Wi-Fi hotspot: Turn your car into a portable wifi hub on wheels. Ensures all passengers can access the net.
Enhanced safety and security: Real-time traffic, weather and road condition alerts to help improve driver safety.
Road and vehicle monitoring: Another great feature of this system turns the entire car into one big sensor. Allows the car to interact with road and traffic data that be shared by other motorists connecting to the cloud.
What cars are going to be using it?

The system was built as a part of a multi-industry project by Alcatel-Lucent, Atlantic Records, QNX Software Systems, Toyota Motor Sales, Chumby and Kabillion. There is ajn interesting video showing it being used in a Toyota Prius, although with so many companies partnering on the technology we imagine it will be a more generic system that could work in other vehicle models.
The key to in-car Internet: 4G wireless technology
To convert our cars into cloud-connected four wheel data centres, they're going to need a better wireless Internet connections. There are in-car devices in Australia that currently use 3G wireless (see Azentek), but the growth of 4G could change all of this.
4G is the much talked about successor to 3G wireless and some companies in the US are already offering the service to their customers. Clearwire and Onefi are just some of the names promoting the technology, which promises speeds up to 100Mbp/s, more efficient network compatibility and larger geographic coverage.
Safety factors
Just as there are calls in some regions to increase the restrictions on drivers using GPS or mobile phones in their cars, the same might be said for the in-car dashboard computers. Mercedes is so aware of the potential dangers that it limits the ability to use the web browser and email while the car is moving in current 'command' models.
Other systems in production
In-car computers are by no means new. There are countless devices on the market; most of them with cheap LCD screens and not much else under the hood. The best of these feature 3G internet connections.
An American company, Azentek, provide one of the better locally available options. While not as stunning or advanced as the ng LTE design or Mercedes system, the Azentek is nevertheless an interesting alternative.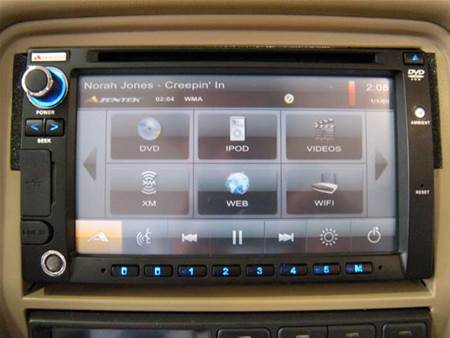 The Azentek in-car computer is avaliable now
The Azentek system is powered by an Intel Core Duo T2300 1.66Ghz processor and features a 6.5in LCD-TFT touchscreen, not unlike the ng systems concept. The usual music/video multimedia options apply. There's even an option that can read out your emails, and a 160GB HDD and iPod inputs.
But if that hardware sounds pedestrian, it's a safe bet that the next generation will feature faster CPUs, more storage and better wireless (such as 4G). The future for in-car Internet looks interesting.