Apple is apparantly working on a 'remote device wand' that works in a similar way to the popular Wii remote, using gyros and accelerometers to influence applications on screen.
The Apple remote, or the 'Applemote'' as we prefer to call it, still only exists as a patent at this point (which was first uncovered in 2008), but it's obvious that the design and functionality behind this Apple concept is influenced strongly by the success of Nintendo's Wii.
According to AppleInsider, the extensive 64 page patent lists a number of uses for a handheld wand, including the ability to zoom on screen and a number of keyboard, image and media applications.
Although the current Apple TV already ships with a remote control of sorts, the Apple wand will go one step further, by using sensors and gyros (through an embedded accelerometer) to orientate the way you interact with the applications on screen.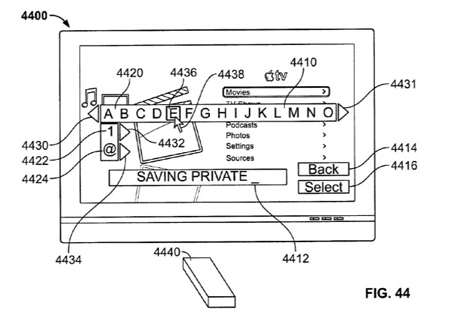 The keyboard application dosn't seem that revolutionary at first glance.
*Image source: AppleInsider

Image rotation with the Apple wand.
*Image source: AppleInsider
Patent pictures suggest how the wand could be used to rotate images, in much the same way you can already control image resizing and image movement on the iPhone. It's thought that an Apple wand device would give users a richer, more extensive media experience, because it would allow users full control of the way they view their photo albums, navigate menus and play music on their Apple TV televisions.
The Nintendo Wii remote gained popularity for the way it altered the rules of gameplay via hand gesturing and movement sensors within games. Although it seems that the Apple wand would be strictly for non-gaming purposes, we also wonder if Apple could take advantage of the device as a future Apple gaming system.
This isn't a new concept by any means. Apart from the well known 'Wiimote', there was the earlier Nintendo Powerglove - a sort of pioneer in the motion sensor space. Acer and Asus also have Wii style motion sensitive devices in the pipeline.