The new OS will bring with it a range of new features, particularly of interest to those using the device for health reasons
Apple today confirmed that the latest version of its watchOS - watchOS 5 - will be coming to series 1 Watch devices and older later this year, while developers can play with WatchKit for the latest OS from today as part of the beta programme.
The update is quite a beefy one and is particularly focused on helping users "stay active and connected," according to Apple CEO Tim Cook who made the announcement during the WWDC keynote earlier today.
Activity Sharing competitions, workout auto-detection, a Walkie Talkie feature, Apple podcasts and the ability to better view web content as well as third-party app integration on the Siri watch face are all part of the lineup.
"We're thrilled with the positive impact Apple Watch is having on people's lives. Apple Watch is helping our customers stay connected, enhance their fitness and, in many cases, detect life-threatening conditions. With the launch of watchOS 5, we're excited to introduce new activity and communications features that will take the Watch to a whole new level," said Jeff Williams, Apple's chief operating officer.
Drilling deeper into the new features during the keynote, attendees were treated to detailed information on how the new features in the watchOS are designed to keep users healthy and active. The latest watchOS even lets Apple Watch users invite others to compete in a seven-day activity competition, where they can compete to close rings and receive notifications to help motivate and further compete.
The Auto-Workout detection feature also intelligently works out if you're working out and provides a prompt so you can receive retroactive credit, in addition to suggesting the workout is over after a period of inactivity.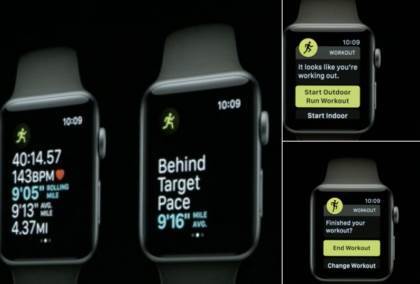 That's in addition to a cadence metric for runners and walkers to log steps-per-minute and 12 new dedicated workout types, including yoga, hiking, and ocean swim, with watchOS 5 tracking and recording exercise undertaken and calories burned as a result.
A Walkie-Talkie feature also enables Apple Watch to Apple Watch comms with just a voice command and tap of the wrist, while Sirir now supports third-party content from a variety of apps including Nike+ Run Club, Glow Baby and Mobike.