Still relying on Google Maps to get around? Here's a quick summary of how to kit out your iPhone for GPS, including which apps you should try.
Making the most of your iPhone's GPS used to just mean finding nearby restaurants, randomly checking who was tweeting nearby, or trying to navigate via Google Maps and your phone's wireless data connection.

The recent launch of a flurry of iPhone GPS applications has opened up new possibilities for the popular smartphone's previously under-utilised GPS chipset. Some simple tweaking and organising can make these new apps really direct you where you want to go.
Pick the App that's best for you
Navigon's $69.99 MobileNavigator software is currently the cheapest of the bunch, although that's a promotional price until August 31, when it goes up to $99.99. Sygic's $79.99 MobileMaps gives you New Zealand maps for only ten dollars more. It is a little more rough around the edges, however. TomTom's recently released "Australia" GPS app gets no discount and will cost you $99.99, but has the familiarity of TomTom's well known interface to recommend it.


None of the exising iPhone GPS apps offer TMC channel compatibility, but the SUNA traffic app still lets you see info on traffic conditions
Keep your contacts up to date
Both the Navigon and TomTom Apps can navigate to a contact's address for you, but only if that information's up to date.
Invest in a screen mount
There's two reasons why a screen mount makes sense. From a technical point of view, you're going to get better GPS reception from a unit with a clear sky view, rather than resting on the dash or in the hands of a passenger. It'll be easier to quickly read in a mount as well.
The second reason's a legal one. Put simply, it's illegal to operate a smartphone or GPS while driving a car in anything but a hands-free manner, which normally equates to having it in a screen mount. Logically speaking, you're also less likely to crash if you're already looking at something located in your windscreen than staring down at a smartphone in your lap.
Invest in a charger or external battery
Smartphones of all stripes, including the iPhone are notorious for poor battery life. Using the GPS only makes the problem worse. Invest in an in-car charger or external battery so you can keep using the iPhone for everything else once you reach your destination. In theory, TomTom's upcoming screen mount will offer inbuilt charging, but release dates and pricing for it are yet to be confirmed.
SUNA or later
None of the existing GPS apps offer TMC channel compatibility, but you can access the existing SUNA traffic information for Sydney, Melbourne and Brisbane via the Traffic Australia application. At $3.99 for a year's access, it's actually a lot cheaper than adding TMC compatibility to an existing GPS unit, albeit with lesser capital city coverage.
The TomTom iPhone app has the benefit of TomTom's familiar interface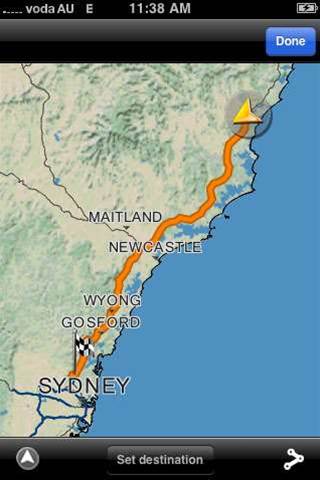 Navigon's $69.99 MobileNavigator software is currently the cheapest
Sygic's $79.99 MobileMaps: handy if you're visiting New Zealand