Whether you are a busy commuter or a frequent flyer or maybe you prefer to just travel for business or pleasure, there's a selection of kit that can simpify your life.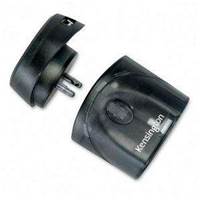 USB adapter

Twistable travel adapter

The perennial problem while on-the-go is keeping your tech with enough juice to see it through a busy day. How many of us have scoped out the sole power point in an airport lounge or convention room to give us minutes of precious extra work time?

Chief among the difficulties is having the right adapter for the right country and voltage, not to mention making sure that it comes in a package small enough to carry with you everywhere. The neatest solution is a multi-position swivelling adapter.

Each twist produces a different set of prongs, allowing you to connect to 120V square holed UK sockets and two-pinned round sockets in the US. At the other end, a universal adapter means that you can plug anything, into anything. We just wish someone would invent a foldable powerboard. You can get a Kensington USB Travel Adapter, $40 from Gizmomart
Load-ding

The downside of a travel adapter is that, just occasionally, the weight and position of a socket leaves your gadget's cable drooping, or worse, dropping out of the socket altogether.

Remember that hotel room where your phone cable doesn't quite reach the floor, leaving your gadgets swaying back and forth precariously - if the weight doesn't pull them off the wall, that is.

A clever German inventor came up with the solution: Load-Ding, a foldable carryall that attaches to a socket and lets you rest your gadget in its solid and colourful shelf. It comes in five colours, and can be stored flat - in its envelope, if desired - for easy transportation. Sadly, it's only available in Europe - from load-ding, in a stylish envelope.
USBcell is powered by your PC

USBcell

It made a splash at this year's CEBit, but the USBCell has actually been around since 2006. The idea is simple - add a USB port to a rechargeable battery, so that you recharge it by plugging it into an available USB port.

The usefulness isn't immediately apparent if you think about recharging batteries on a day to day basis, but think of it as part of a traveller's toolkit item and it comes into its own.

It's one less item you'll need to carry around with you - whether you ditch the charger or the extra batteries, as long as you can find a power point, you can plug in (say) a laptop, and charge your batteries from there. The time it takes is the sticking point, but it's useful enough. It's stocked by tesora, for $19.95
Theft protection

It only takes a second for a thief to nick your camera, laptop bag or other valuables. Even the toughest bag strap can be cut through with a sharp knife, and it only takes a bump in a crowd or a moment's distraction for thieves to do their work.

PacSafe's range of Carrysafe straps and gear is reinforced with a metal cable and makes slicing though your bag or strap a slow and onerous proposal. That extra 20 seconds' grace could well make the difference between watching a thief running away with your gear and catching them redhanded. The camera strap features locking spring-loaded clips to make unclipping your camera without your knowledge a much trickier prospect. From $34 at Gogogear.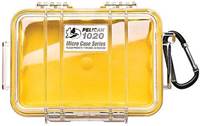 Protective casing for your valuable cards

Protective coloration

If you've ever sat on your spectacles or stepped on your USB key, you'll appreciate the security that a protective case for your gear can provide. Pelican have a great range of microcases for CF cards, SD cards, xD card, memory sticks and other camera accessories, providing a place to both store them and keep them safe.

Not only that, but you can also get versions for iPod shuffle, Nano or Classic - each of which come with an external headphone jack for all-weather audio. The cases come with rubber o-rings and close seals to ensure a continuous watertight seal - just in case you get caught out in the rain with your kit.
Get yours at Digital Camera Warehouse for under $40.
USB Travelmate adapter

Of course, if you plan on investing in some USBCells (above), you're going to need USB ports wherever you go. That's where the USB Travelmate Adapter comes in.

It has a plug at one end, and two USB ports at the other. And because that's not enough for most of us, it also comes with a set of usb-to-tech adapters that plug into the USB ports - there's one for iPod, for Nokia phones, Sony phones, etc. It all wraps up into a neat little pouch to make for easy portability.
Avaliable at usbgeek for $19.95