From the nuclear bunkers of the Netherlands to the Holy sites of Barcelona, we take a closer look at the five of the world's most unique data centres.
---

Data center straight from a James Bond Movie


---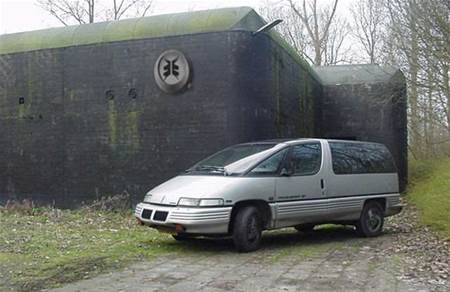 Cyberbunker entrance. Most of the complex resides below ground. Photo credit: Cyberbunker.com



Where: Kloetinge, Southern Netherlands

Who: Cyberbunker

Among the world's strangest locations for a data centre are the ones found underground in former nuclear bunkers. Built at the height of Cold War paranoia in the mid 1950s, the aptly named Cyberbunker purchased the underground complex in 1998, turning it into a battle hardened data server that specialises in web hosting and secure data storage.

Designed to house up to 72 people from a nuclear attack and for counter espionage, the facility was later used (and redesigned) as part of the ASCORN early-warning system in the 1970s to monitor early missile strikes from the Soviet Union. In 1996, NATO decommissioned the bunker.

Comprising four levels (and one above ground), the bunker is made up of numerous tunnels and operations rooms. The underground levels are protected by 5 metres of reinforced concrete walls and electromagnetic (EMF) pulse shielding, designed to meet stringent military specifications. The EMF shield protects electronics equipment in the case of a nuclear blast.

Cold War style communications equipment, dining facilities and accommodation are still preserved in the 5000 square metre premises.
And because every data center should be protected from the outside world, there is even nuclear, biological and chemical (NBC) air filtration throughout the complex.

Trivia: Access to Cyberbunker is still largely hidden today in the forests of Kloetinge. A 126m long driveway leads to the main facility, but the only thing that remains above ground is a carpark and remote controlled fence.

Oddly enough for a data hosting company, Cyberbunker's poorly designed website looks like it was last updated in 1995.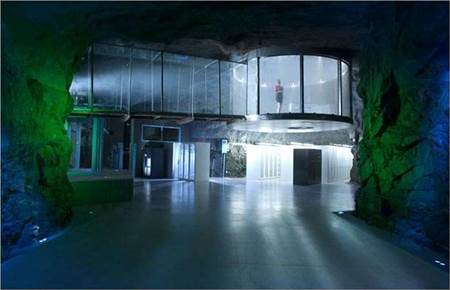 Mr Bond, make your move... The Swedish Bahnhof ISP is also built in a former nuclear bunker. Photo credit: Bahnhof.se
Many nuclear bunkers were built in the 1950s and 1960s around the world, and continue to make excellent data centres. One can also be found in
Sweden
and another, in the
US
.
---
Greenest data center
---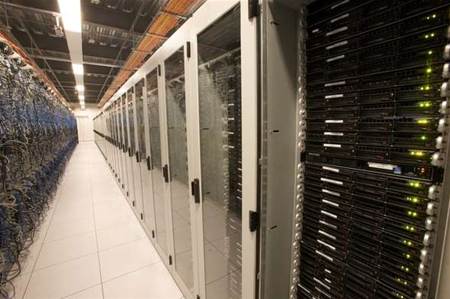 1and1 Internet's Kansa data center. Photocredit: Informationweek
Where:
Chesterbrook, Pennsylvania, USA
Who:
1&1 Internet
Given the current political and economic rationalisation towards solving climate change, some data centres are flaunting their green credentials.

1&1 Internet were recently awarded with the highest rating from the EPA in the USA for achieving a number of environmental goals. Each year, 1&1 Internet purchase 17.5 million kilowatt-hours (kWh) of green power to power their five data centres.

This power is made up of electricity generated from environmentally renewable resources such as wind, solar, hydroelectric and geothermal sources. Their green initiative is also equivalent to 100 percent of electricity use for 1&1's Kansas Data Center, which contains 680 racks and 40,000 servers.
But it's not all about green energy purchases. Other data centres have also managed to offset the intense amount of excess heat that data servers give off each day.

Today, data hosting companies in Finland and Switzerland are using this excess server energy to heat local community swimming pools and provide hot water for local residents in surrounding neighbourhoods.
Trivia: As of 2009, 1&1 Internet have 70,000 servers in 5 data centres and host more than 10 million domain names. Based on current server numbers (not including physical warehouse space), 1&1 are currently the world's largest data center.
---
Data center for a breakaway nation


---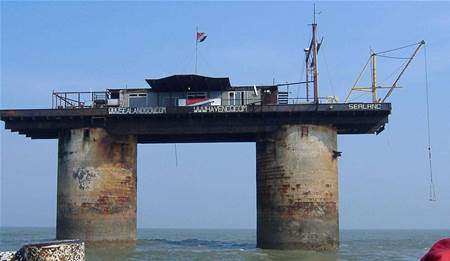 The Principality of Sealand and the home of HavenCo Inc.
Where: Principality of Sealand (10km off the coast of Suffolk, south east England)

Who: HavenCo Inc.

Sealand is among the world's most famous breakaway state, a micronation that settled on the site of a former World War 2 sea fort, known originally as HMS Fort Roughs.


Sealand coat of arms
Data havens allow many to hide their deep and darkest secrets, without having to answer to the conventional laws of neighbouring countries. HavenCo was established in 2000 as a data tax haven of sorts, that defied international copyright and other similar laws.
However, HavenCo was particularly diligent about prohibiting the use of child porn, spam and malicious hacking from being hosted on its data servers. The terms of use were specified under an acceptable use agreement.


Whatever happened to HavenCo?
HavenCo mysteriously stopped trading in 2008, after many years of in-fighting with staff, leaving a trail of owed funds and misappropriation to register Sealand domain names, when in fact Sealand had no such authority to do so.
Trivia: Sealand have their own set of currencies and stamps. They are represented in football (soccer), mini-golf and fencing at various international events. A film detailing the colourful events of Sealand's history is expected to be released later this year, according to IMBD.
The full stoy of HavenCo makes a for a good read over at Wired Magazine.
---
Data Center for the record books


---

Where: California, USA
Who: Sybase Inc and Sun Microsystems.
Sorting out the who's who of largest data centers in the world is no easy task. The task involves researching the big names like Google and some soon-to-be built massive warehouses for Apple and Microsoft.
Much of the development is riding on the anticipation for cloud computing and the vast amounts of data that businesses and consumers will likely need to store somewhere in the near future.
As previously mention ed,1and1 Internet are on top for servers alone. But for sheer data, nobody comes close to the record achieved by a partnership between Sybase Inc, Sun Microsystems and BMMsoft.
In May 2008, the Guinness Book of records certified that Sybase was the largest data center in the world. The data warehouse itself contains just over six trillion rows of transactional data and more than 185 million content searchable documents (these include the usual emails, spreadsheets and various multimedia applications).
Yes, that's six trillion rows of data. The unique data storage solution employed by the Sybase partnership is also supposed to be good for the environment too, consuming 91% less energy and carbon dioxide than traditional data warehouse solutions.
Trivia: The data center is powered by a Sun SPARC Enterprise M9000 server. In July 2008, Sybase set a new performance record for 4-core Linux systems: 276, 373 transactions per minute (TPC-C benchmarks).
---
Heavenly data center

---
The BSC. Photo credit: Wikicommons



Where: Barcelona
Who: Barcelona supercomputer center
If you thought the strangest place to store your data was a nuclear bunker, think again. Rousing the heavens and his Holiness, the Barcelona Supercomputer center (BSC) is situated on the grounds of a former Christian chapel in Spain.

The BSC or Centro Nacional de Supercomputación is a publicly funded research center that hosts the MareNostrum, Europe's eigth most powerful supercomputer.
Naturally, being a monster of a supercomputer, a massive amount of data is processed on a regular basis. It operates on a 5.5million euro budget.
Trivia: From the outside, the building looks like a regular Spanish Chapel. But inside, the MareNostrum is housed inside a giant glass box.