Upgraded to Windows 10 and need some pointers? These are the Windows 10 tips you can't be without
Having finally struck gold with Windows 10, Microsoft is really pushing its latest operating system by giving it away to upgrading users for absolutely nothing.
With Windows 10 Microsoft has brought in a raft of new features and tweaks, meaning that no matter if you're completely new to Windows or have upgraded from Windows 7 or 8.1, there's plenty of new features to brush up on. And that's why we've put together this list of the 15 Windows 10 tips and tricks that you really, and we mean really, need to know.
1. Make Cortana recognise your voice
Don't fancy clicking on Cortana's search and typing in your query? You can actually just ask Cortana a question, but to do so you first have to enable it to respond to the sound of your voice saying "Hey Cortana". Bear in mind, you may be asked to set your microphone up to use this feature if Windows doesn't think it's compatible.
Here's how to set Hey Cortana up:
Open Cortana

Click into "Notebook" (the icon underneath the Home button in Cortana's side menu)

Click Settings

Scroll to find "Hey Cortana" toggle switch and flick it to On
2. Turn off Windows Explorer's "Quick Access" view
While Quick Access is great for finding a recently or commonly used file or folder, those who just want to quickly find something on their computer might prefer the "This PC" view from Windows 7 and Windows 8. Thankfully you can switch Explorer back to how it used to be in just a couple of simple steps.
Open File Explorer

Click "View" then "Options" on the far right

The "Folder Options" menu will appear

Next to the "Open File Explorer to" option, select "This PC" from the dropdown menu.

Click "Apply" then "OK" to confirm the change
3. Take control of Windows 10 updates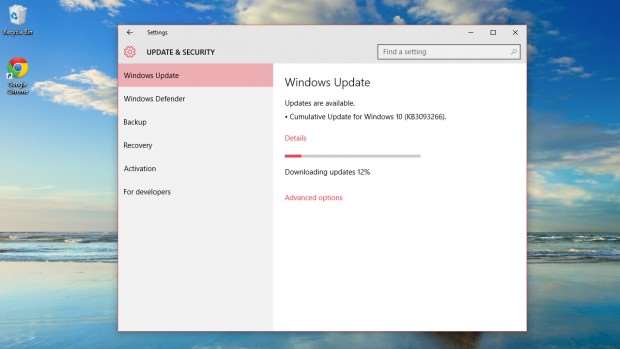 While Windows 10 may remove much of the effort when it comes to updates, it also has a terrible habit of resetting your computer at the worst times. While you can delay some updates if you're running Windows 10 Pro, Home users have no choice but to succumb to Microsoft's update will.
Thankfully there's a way to make this process a little more palatable, saving your internet bandwidth as well as your open documents in the process. However, doing so means you do still get Windows 10 updates Microsoft deems as "essential", but you'll stop seeing app updates and updates to Start screen tiles.
Here's how to set Windows 10 to reduce update downloads over Wi-Fi and warn on resets:
Open Settings and go to Network and Internet

In "WiFi" click "Advanced Options"

Under "Metered Connection" toggle the "Set as metered connection" switch to On.

Next go back to Settings and select "Update & Security"

Choose "Advanced Options" and then use the drop down menu to select "Notify to schedule restart" instead of "Automatic" and now you'll be notified when Windows 10 is about to restart, so you can stop it.
4. Stop Microsoft Edge Browser opening everything by default
Microsoft's replacement for its creaking Internet Explorer browser is definitely a welcome change, but it's over-eager desire to open everything as the default app is not.
Thankfully you can stop Windows 10 using it as default, and in the process set defaults for all your other applications.
Open Settings and go to System

Towards the bottom of the options you'll find "Default Apps"

In here you can reassign defaults for a whole array of services and applications, even assigning them by the type of file they open.
5. Ditch Bing and start searching with Google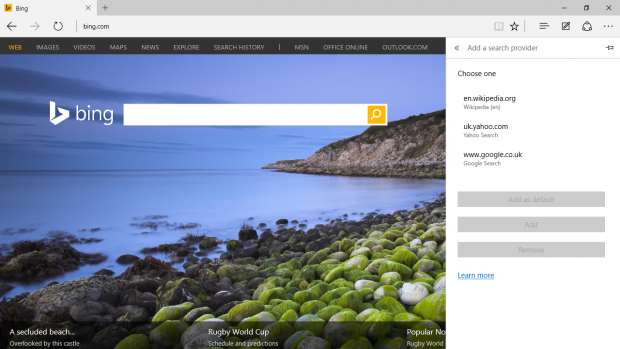 Seeing as Bing is the default search engine for Microsoft Edge and the Windows 10 search bar, it's hard to get away from Microsoft's search engine. However despite improvements and its best efforts to force Bing upon Windows users, Google will always reign supreme.
While totally removing Bing from Windows 10 is impossible, you can kick it out of Edge and clumsily replace it in the Windows 10 search bar.
Here's how to remove Bing from Microsoft Edge:
Open Edge and select the ellipsis (the three dots) on the right

Go to Settings, then Advanced Settings

Under "Search in the address bar" change the default option of Bing to "Add New"

Here you'll see a list of available search engines. If the list is empty (as it tends to be) navigate to your browser of choice and repeat the process. You should now see it listed as an available provider.
Here's how to remove Bing from Windows 10 search bar:
Open Chrome and download "Bing2Google" from the Chrome App Store

Now, when you perform a Windows 10 search Chrome will boot up and take you through to a Google search. Thankfully you don't lose any standard Cortana or device search by doing this either.
6. Make your active windows more noticeable
Windows 10 may look sleek and stylish, but when you've got multiple windows open its design is terrible as the active window is never really highlighted.
Microsoft is aware of the issue and is working on a fix, but in the meantime you can make things easier on yourself with a subtle border surrounding your currently active window.
Right click on your desktop and select "Personalise"

Select "Colours"

Turn off "Automatically pick an accent colour from my background"

Select an accent colour you'll recognise most against your Windows 10 background and your windows and highlighted points will all change
7. Remove the Windows 10 login screen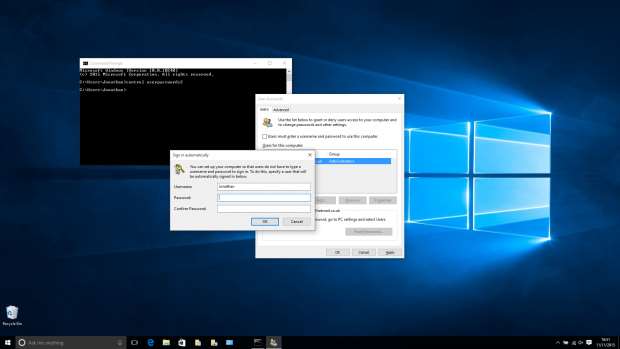 Now Windows 10 knows more about you than ever before, it really does make sense to keep your profile behind a password or biometric lock. However, it's endlessly annoying to boot your desktop or laptop up, walk off to do something and come back to discover it still hasn't booted into desktop and loaded startup apps because of your lock screen.
While we don't recommend completely removing your password and security logins, it can be done with just a little bit of brute force from the Windows tweaker's favourite tool: the command prompt.
In the Windows 10 search bar type "CMD" and select Command Prompt

Type "control userpasswords2" into the box and hit enter

A "User Accounts" pop up will appear, uncheck the tick box at the top "users must enter a username and password to use this computer"

You'll be prompted to enter and confirm your password to change the settings. Once done you'll never have to login to your computer again!