The new February issue of PC & Tech Authority and iPad edition go on sale today, jam-packed with reviews, features, expert buying advice and more.
Here's why you should get this month's February magazine at your newsagency:
50 things every PC owner should know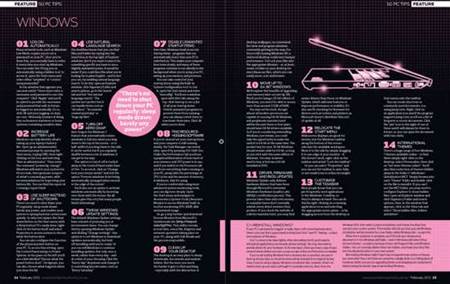 So you've just unwrapped a shiny new laptop or PC? Maybe you want to teach your existing machine some new tricks. Here is a list of tweaks, tricks and power user tips that frankly, should be on every PC owner's desk. We cover tips for novices up to more advanced tricks, from increasing your battery life to speeding up boot times. Beyond the desktop, there's tips for faster wireless, backing up and audio. Buy it, stick it on the bookshelf, or buy a friend a copy so you don't have to point out all this stuff.
eReaders - 10 tested and rated
Amazon's Kindle has been at the top of the bestsellers list for over a year, but with new stores and eReaders on the market, can it hold onto the top spot? If you've been thinking about taking the plunge and getting your first eReader, or upgrading, grab this issue for reviews of 10 eBook readers, including Kindle and Kindle Keyboard, Sony Reader Wi Fi, Kobo Wi Fi, BeBook, iRiver and more.
 
PC workshop: Image your system
For archiving, disc images are more convenient than keeping physical discs, since you can store hundreds of DVD images on a single hard disk. It's also more convenient for distribution: rather than waiting for a colleague or company to send you a disc, you can download an ISO file and recreate the disc in minutes, using either a burning tool such as ImgBurn or Windows 7's built-in burner. This issue includes or four page breakdown of imaging tips and a step-by-step walkthrough.
Reviews, reviews, reviews
So, what's been through our test lab for this issue? Heading up the list is our big eBook Reader Group Test - the definitive comparison of 10 devices on the market. In this issue you also get our review of a laptop that should be on every laptop buyer's radar: Dell's XPS 14Z. Gamers, feast your eyes on the ASUS ROG TYTAN, truly a mammoth PC that managed to crank out 81 frames per second in our Very High Detail tests. Yep, very high detail. Plus we've tested cameras, external hard drives with "cloud " capabilities, Samsung's controversial lawyer-fee generating Galaxy Tab 10.1, a $10.49 version of Photoshop on the iPad (yes, $10.49), phone apps and more.
Introducing the MakerBot Thing-O-Matic
It's a printer that prints...well, actuall objects. Read the feature and discover the fasincating, emerging technology called 3D printing.
Workshop: Batch files for power users
Never used batch files? Roll up your sleeves and learn how to make these scripts do things for you automatically.
Face-off: Office 365 vs Google Apps
So you've heard about Office 365, and you've heard about Google Apps. What are they? Which is best?
Demo: LEGO Harry Potter
The little guy's LEGO. Do we need to say more? For anyone who's played the LEGO Star Wars, take a look at how the wizard world looks in LEGO. If you've never played the LEGO games, see what the fuss is about.
But wait, there's more
Other highlights from our February issue include our feature on Video on Demand, overclocking, opinion pieces, reviews and more. It's all in the February edition of PC & Tech Authority.
Get the February edition of PC & Tech Authority on sale at newsstands from today.